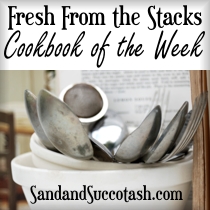 Cookbook of the Week: Vegan with a Vengeance: Celebrating 10 Years of Vegan Domination with New Photos and Even More Delicious, Cheap Recipes That Rock!
This cookbook of the week is a great vegan cookbook: the 10th anniversary updated edition of Vegan with a Vengeance by Isa Chandra Moskowitz. She's the author of Veganomicon and her website is The Post Punk Kitchen.
I put up a review of this cookbook on my blog, and also a recipe for delicious,
Garlicky Kale with a Tahini Dressing
.
Vegan with a Vengeance
cookbook review and recipe - and the cookbook of the week. :)
Enjoy,
Renee Shelton
The Cookbook Papers
:)